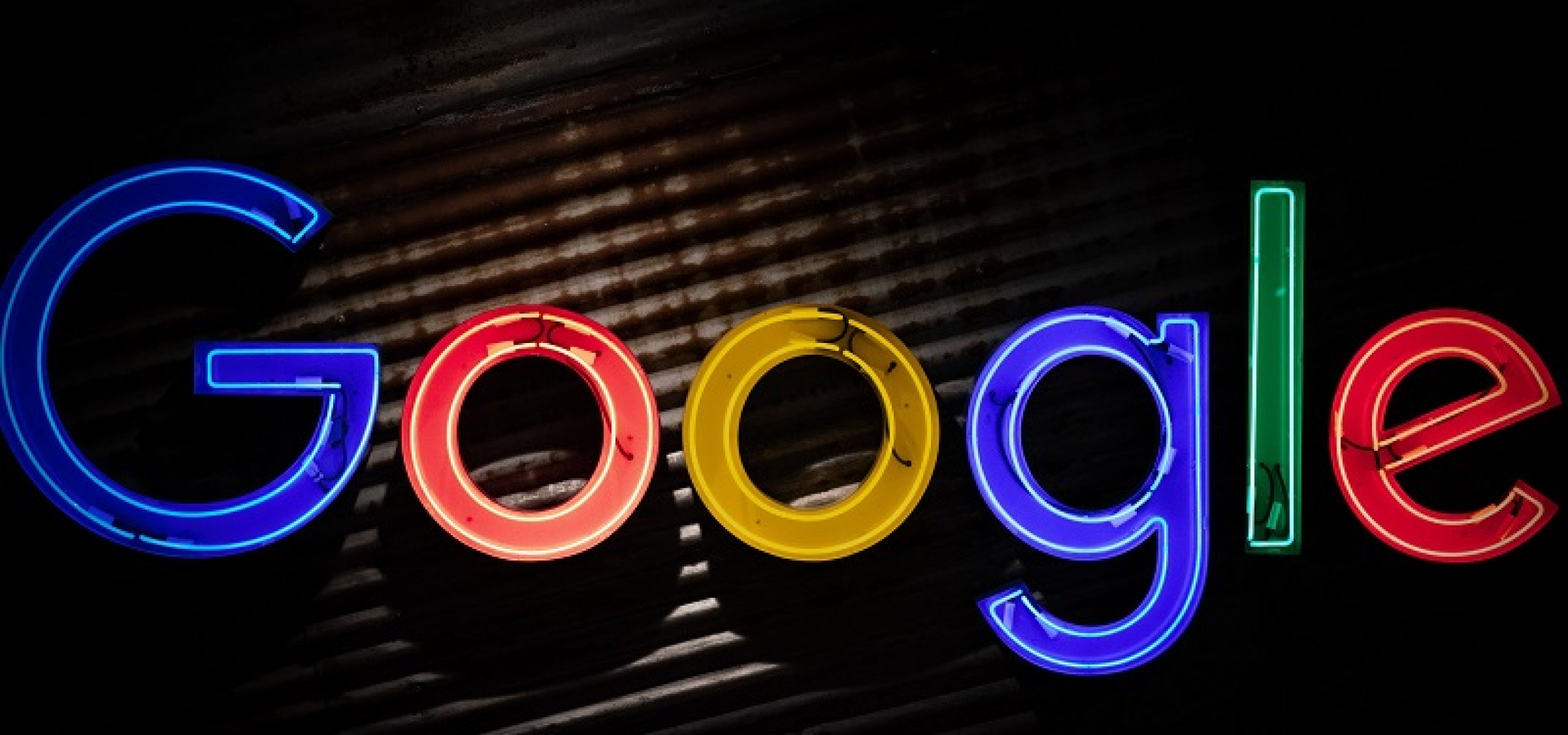 When you're searching for ways to build your online visibility, looking after your Google My Business profile can make a big difference.
Not only will your Google profile help new customers view your products and services at-a-glance, meaning you get the right visitors to your website, it is also a great way to control how your business appears on Google Search and Google Maps.
With the help of GMB, you can guarantee your local visibility will improve and the importance of this isn't to be underestimated. 46% of the searches on Google have local intent and when people perform local intent searches, they're typically much more likely to purchase. That being said, it can take time to build a profile, so it's worth learning how to get started and then stay consistent with your updates.  Here are some tips which will help you understand what's involved.
Where to start
To get started, Google will ask you to complete some core information about your business including its name, category, location, opening hours, contact details and website address. You'll then be asked to verify your account with a code which is usually posted to you. Once you're set up you can add relevant information to your profile to help customers understand what you do.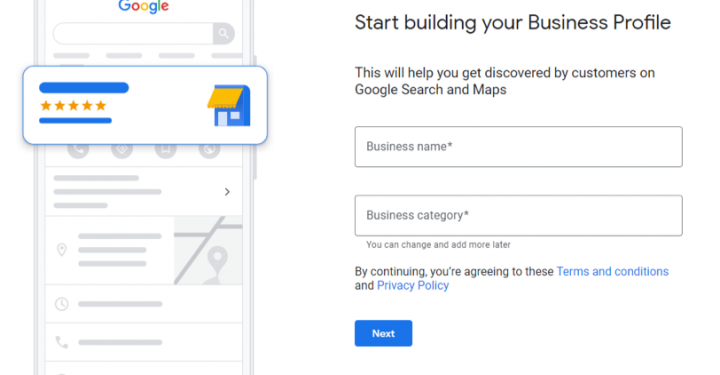 Next, you can add more detail to enhance your profile.
A company description: Your company description is the perfect place to showcase who you are and what you do. Don't just copy and paste text from your website or LinkedIn page, take the time to craft a good paragraph about your business including key information and a description of your services. This can be hugely influential on the quality of leads your profile generates – especially if you're a smaller business or working in a service that has a high search volume.
Reviews: Good reviews are a clear trust signal to potential customers so encourage your happy clients to leave positive reviews. From the home menu on your Google profile page, you should be provided with the option to 'share review form' to get the process started.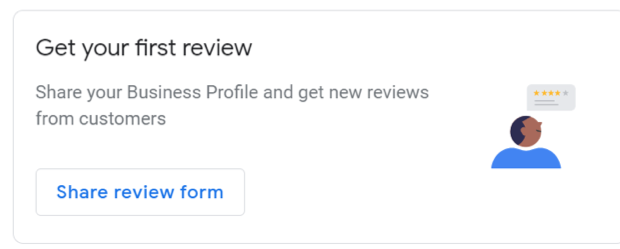 Photos: Whenever appropriate, add new photos to your profile to make your listing more appealing.  There's significant evidence to show that profiles with more photos receive more calls, clicks, and enhanced visibility.
To get started, we suggest adding your logo, a cover photo, and a photo of your premises. Additional photos can also cover aspects of your business including your staff, products, and services as well as events you've held/attended or logos certifying your credentials.
Think of your photo gallery a bit like an Instagram feed to promote what you stand for – and don't forget to update it regularly! These photos will appear when people search you on Google and in your Google Maps listing, so make sure they're relevant to what you're trying to promote.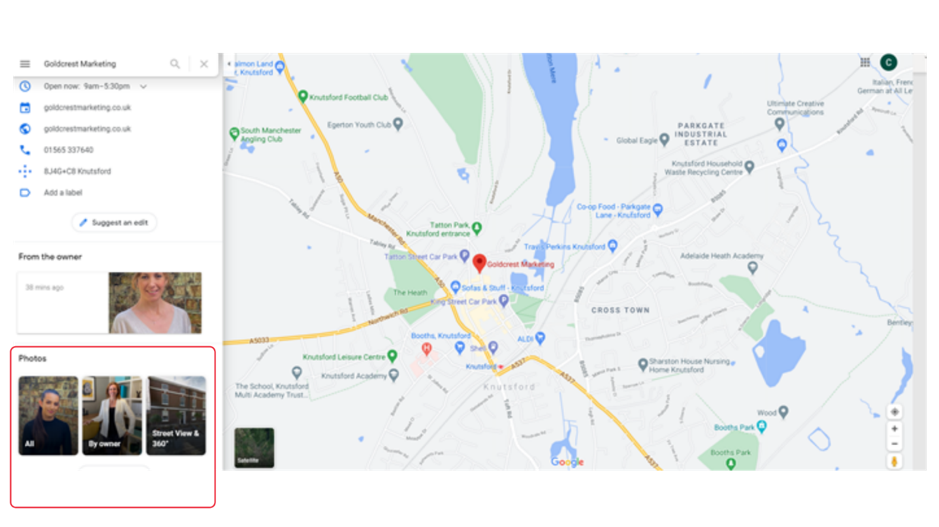 Articles: If you're creating blogs or articles for your website, get additional benefit from them by posting them to your Google profile. Think of it as an extension of your social media platforms where you can post updates about your services and achievements or important information you want to share with your customers. Posts will be seen directly from a Google search and you can select different categories – What's New, Events, Offers, and Products. Google has also recently added a 'Covid-19 Update' option so you can let your searchers know your new business hours/location in one simple post. One of the things we particularly like about this feature is that you can choose to display buttons that invite specific actions such as book, order online, buy, learn more, sign-up or call now.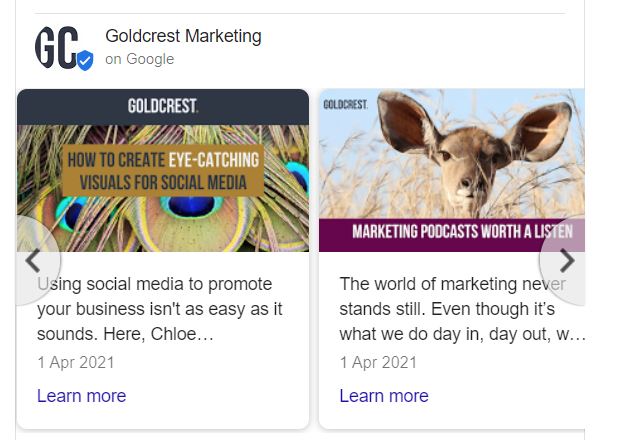 Products & services: Whether you offer a product or a service, add the details to your Google profile. We suggest doing this in addition to listing your services when you set up your profile for additional exposure.
Finding what works
You may need to experiment to identify the content that works best on your Google My Business page. Keep an eye on the Insights panel which will help you understand how people are interacting with your profile as this will help you serve searchers better in future.