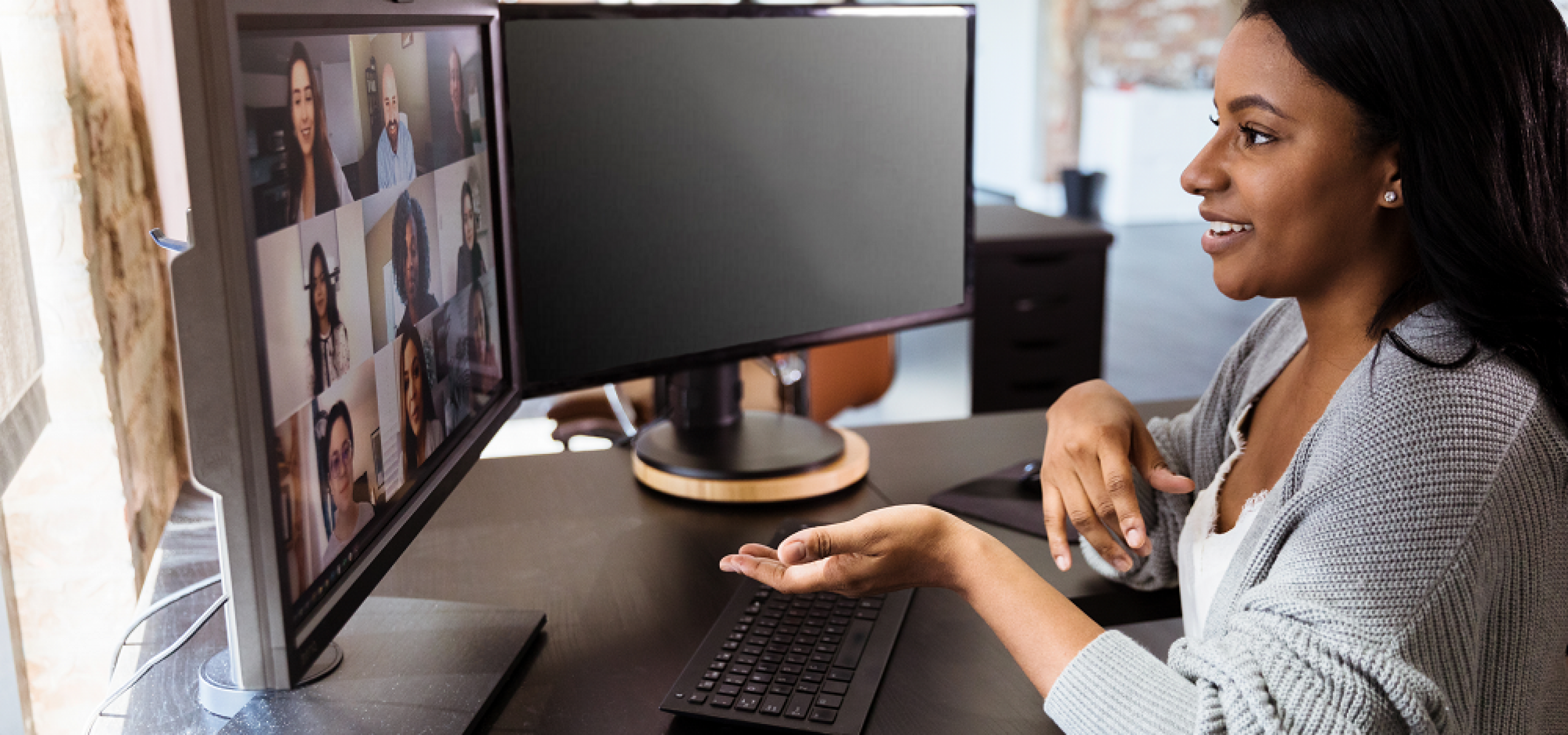 Finding ways to communicate more directly and more creatively has proven a strong point for businesses and services grappling with the challenges of the pandemic.  Interestingly the foundations laid down since 2020 are not going away especially in the B2B world.  So, what trends do we see carrying on into 2022?
Put on your virtual face
If there was a positive that can be drawn from the Covid pandemic it was the ability for businesses to conduct meetings more efficiently.  Teams, Zoom, virtual conferences and other online events are here to stay.
We have learned how convenient it is to work from our home with a scheduled meeting that requires no travel other than the time to make a cup of tea and sit down at our desk.  We still benefit from seeing one another "face-to-face" despite any distance between supplier and client.  We are also finding that we are better at sticking to an agenda in the event there are any technical glitches or pauses.  We are determined to get our points across, quickly!
More importantly, virtual conferences and live events are finding a healthy engagement rate.  The surge in digital events starting in 2020 has been encouraging in terms of their outreach.  Think of it as a much bigger net to capture the customers you are targeting compared to the small one that captured in-person audiences in a confined conference hall.  And clients can no longer use the excuse of a missed train as they can attend from home or view a recorded event at their convenience.
Going forward, virtual events will continue to encourage viewer participation rather than one person talking to a crowd.  More are using live polls and Q&A to tailor their webinars and keep viewers engaged.
Video, video, video
Think about how much time we spent online these past two years.  With so much content available, individual attention span has decreased significantly, therefore the use of video has overtaken the static post.  Visitors spend less time engaged with a post or web page before quickly moving on.  According to a Cisco report, video will account for 82% of all online traffic by 2022.   Users have also stated that they are more likely to purchase or make further enquiries after watching a video.
For businesses, videos are proving an all-rounder tool to tell their story, promote their product and even explain how it works.  Below are different styles of videos that are proving invaluable that are geared toward different audiences:
Corporate videos that highlight a company's culture can be used on the company's website, at a company's annual sales meeting, or when we return to face-to-face meetings, at a company's headquarters.  As these have a story, they tend to be longer than videos posted on social media.
Collateral videos can be used at trade shows or prospective customer visits which highlight their product, services, or highlights case studies.  These can be embedded into a company's website, an email marketing campaign or used as sales collateral when pitching to a new client or at a trade event.
Social media videos must be adapted to hit key points in a short space of time as the aim is to have viewers click through to your site.  For brand-centric videos, they should ideally be limited to 30 seconds.  Depending on your objective, the average length of a business video is two minutes while LinkedIn caps videos at 10 minutes.  In our rushed society, the shorter and more engaging the video the better to increase user retention and encourage them to take the next step.
Augmented reality for B2B
For B2C, augmented and virtual reality have been used to improve a customer experience to allow consumers to "try before you buy."  Consider home improvement brands that allow a customer to see what a certain colour of paint will look like on their walls.
Though costly to implement, augmented reality can be applied for specialised commercial equipment.  As opposed to virtual reality, augmented reality allows the user to interact with the real world.
For B2B, during the pre-sales process or exhibitions, prospective clients can have a closer look at your products without having to visit a showroom.  As the supplier, you can highlight certain aspects in a more realistic way to address any questions.  Users have the time to browse and spend as much time as they need, often without the need of a salesperson present.
AR tools containing an integrated camera and sensors are beneficial to technicians or mechanics to guide them remotely in real-time. In terms of productivity, this is a game-changer for industrial applications.
Show us your human side
It is often believed that B2C customers shop with emotion, but B2B customers shop with logic (and a budget).
Ironically, as we have become more digitised in our daily lives and enjoying the convenience of it, B2B clients want to know that your company is run by humans and not machines.  To foster long-term relationships, your client needs to know that you are personally invested in their story, their products, or their services.
They need to know that you truly understand them and want to share in their success.  Get to know your clients on a deeper level and you will stand out from other competitive marketers.
Brand Voice and Personalisation
In our technological age, the growth of B2B businesses continues to grow.  So how do you help your client amidst a sea of competitors?  Finding your client's brand voice is key to addressing the audience they are trying to reach.
Companies need to "talk the talk" when trying to capture their target audience's attention.  Only by understanding their customer and their values will you be able to truly connect with them on a personal level.
By adopting their persona, you will know how to pitch them at the right level – whether you are a managed service provider who caters to FMCG or an accountancy firm that specialises in the commercial sector.
When personalising your brand, it must reflect the voice of your target audience. This way, you have a greater opportunity to catch their attention and relate with them on a deeper level. A brand voice humanises the interaction between you and your target audience.
Most importantly, to maintain your company's credibility, your brand voice should be implemented across all areas of your business, particularly your sales channel.  A consistent voice should carry through the initial contact with a prospective customer, website, blog posts, social media profiles, and marketing collateral.
Creating Partnerships
As another channel to market, it is believed that most B2B marketers will develop partnerships with other companies or services that supplement or complement their clients' services or products.  Promoting each other on their respective marketing channels adds value to the offer.
This requires careful consideration to ensure they fit with your brand or message and they are not competing for the same customer.  A partner may help sell for you or act as a sponsor.
Another way of partnering could be adding reciprocal links between your websites or negotiating publicity at an event.
Conclusion
As businesses and services adapt to the new norm of virtual engagement, customers will expect this information on-demand and to be able to easily voice their opinion. Digital sits comfortably alongside a traditional in-person sale, helping to make the process smoother and more tailored.