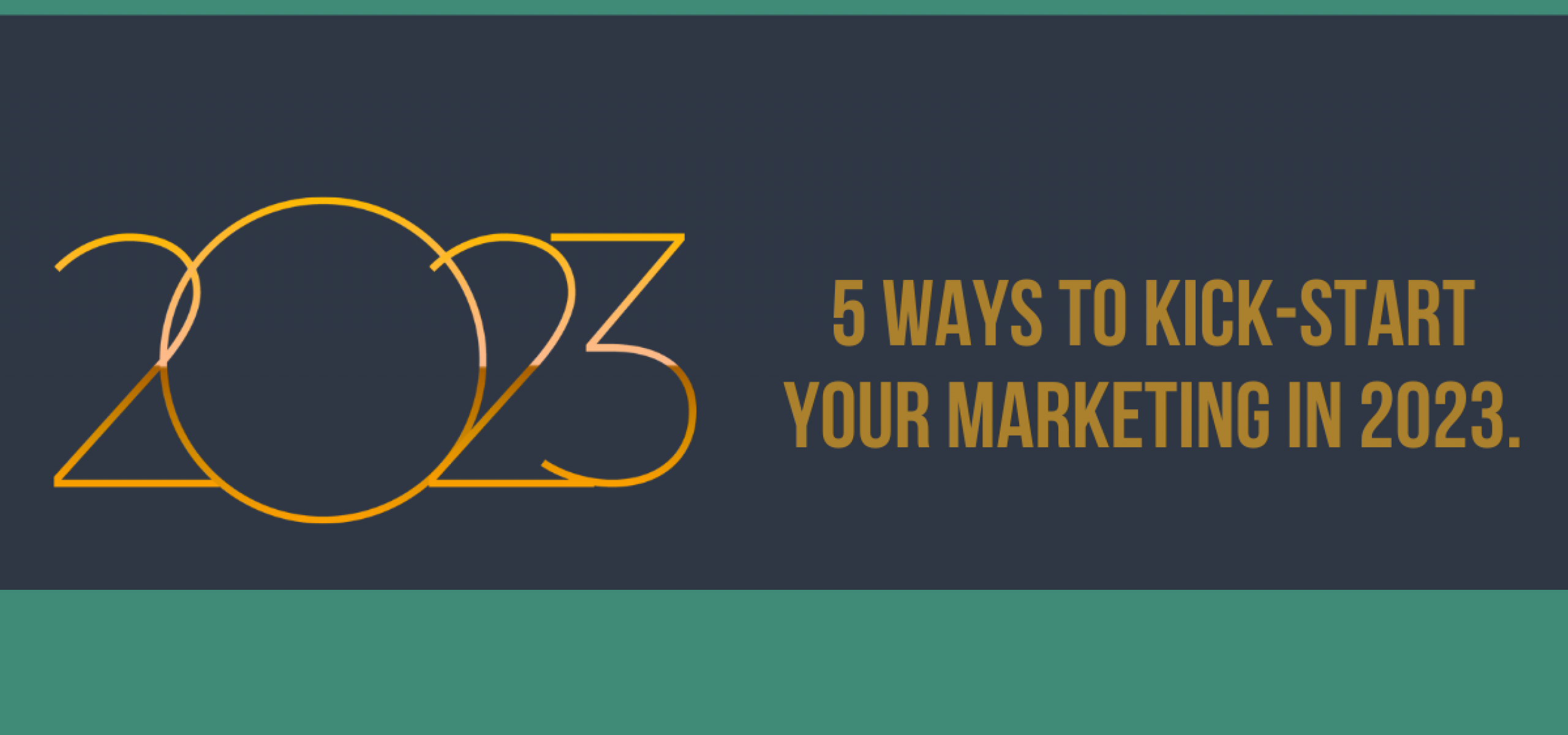 2023. A year where you'll do what you've done before or a year where you'll re-energise your sales and marketing efforts and grow your business? Which choice will you make?
Whether you're a planner or the sort of person who likes to fly by the seat of their pants, a new year certainly heralds an opportunity to have a good think about how to take your business to the next level.
Here are 5 ways you can kick-start your sales and marketing efforts in 2023.
ONE: Plan
It's so easy to say 'make a plan' but very difficult to actually make a plan you can stick to. But if you don't plan then you're less likely to get clear on the goals you need to reach and the steps you need to take to reach those goals. So being plan-less might work out, but equally, it might not.
When it comes to planning business goals, I like to have big, overarching annual targets backed up by quarterly and monthly goals. I have both financial goals as well as 'experience' goals ie, courses I want to complete, events I want to attend, and projects I'd like to work on.
Financial goals are relatively straight-forward. I decide what I want to achieve and then put the goals into a spreadsheet. So, at a glance, I can see an annual financial goal, broken down by quarter and then by month. Then I track the goals each month by reviewing the spreadsheet. The simplicity of this approach means I actually look forward to the monthly review and it doesn't take long.
Whilst I don't always achieve my goals I find that this approach means I'm always moving forward.
Experience goals are usually skills I want to acquire, events I'd like to go to, courses I'd like to sign up for, people I'd like to meet, and projects I'd like to work on. Having experience goals helps me to find a creative outlet, keeps work interesting, constantly hones my skills and moves me out of my comfort zone. It's certainly true that the more you do, the more you want to do.
TWO: Do the basics
Once you've got a plan in place, it's time to think of what marketing to do. Marketing is about making your product or service visible and interesting to your target audience. So make the first quarter of 2023 the time when you get the basics in place. Think about:
Does your website appear on page one of Google for relevant search terms?
Does your website (and any other marketing collateral) properly articulate what you offer and why?
Do you explain how your service works, and what the buying process is?
Do you send strong trust signals with client testimonials and case studies?
Do you show professional credentials such as membership or accreditation with professional bodies in your industry?
In a nutshell, does your business project the right image as an established, expert, professional and caring organisation to do business with? It's certainly worth doing an audit and fixing any issues.
THREE: Demonstrate expertise
As an expert in your field, proactively put yourself in the way of opportunity. It doesn't need to be too complex or time-consuming. Start a blog, if you don't already have one, and keep it up-to-date (or engage a content marketing agency like Goldcrest if you struggle to write quality content yourself, of course!)
Get maximum mileage out of your efforts – use the blog content to become more visible on LinkedIn. You can post the whole blog as an article, as a PDF document (with a little design help) and you can break it into small snippets which you can post as quotes. With a bit of imagination and planning, you can get lots of social media content from one single piece of well-written content.
This means you can batch your content creation, spending a few hours each month creating content that will keep your company visible. Start small and build. Your message will become stronger the more you write it or say it, and your brand will become more visible as time goes on.
Once the foundations are in place, then you can look to do more sophisticated marketing. But do the first things first. I speak from experience when I say don't let perfectionism get in the way of progress!
FOUR: Let your uniqueness show
Very few businesses offer a unique service, what they do is have a unique way of delivering that service. So embrace your unique way of doing things and find a way to express this through your marketing.
A company's delivery style usually reflects the personal values of the leadership team. I always seek to identify these values as they help to create a 'brand personality'. This is, in essence, a way of bringing the company to life in an interesting way through your visual identity and tone of voice. This is how marketers make boring services interesting. It's how we get people to sign up for webinars and email newsletters and blogs and social media feeds.
FIVE: Enjoy the journey…but keep travelling
Content does go viral, companies do shoot to fame overnight, and some people do win the lottery. But most things in life take persistence. Marketing is, for the most part, a persistence game. If you want to generate leads with marketing in 2023, the important thing is to start – and then to keep going. If you need help, e can help you identify the small number of initiatives that would make the biggest difference – and then make them happen.
All the best for a fabulous 2023!